Coquille Saint Jacques Classification Essay
Last week was one of the craziest eating weeks of my life. I have to take one quick minute to gloat:
Monday: The Breslin, with my pal Nastassia Lopez, a.k.a. The Hammer
Tuesday: Le Bernardin for Mamma's birthday
Wednesday: Blanca, where my idol Ruth Reichl dined at one of the other 12 seats!
Thursday: Uncle Boons, where I ate and adored frogs legs for the first time
Friday: Mamma's home cooking in Millbrook (recipe to follow)
Saturday: Fish & Game, where I met Zach Pelaccio and enjoyed the tasting menu with organic wine pairings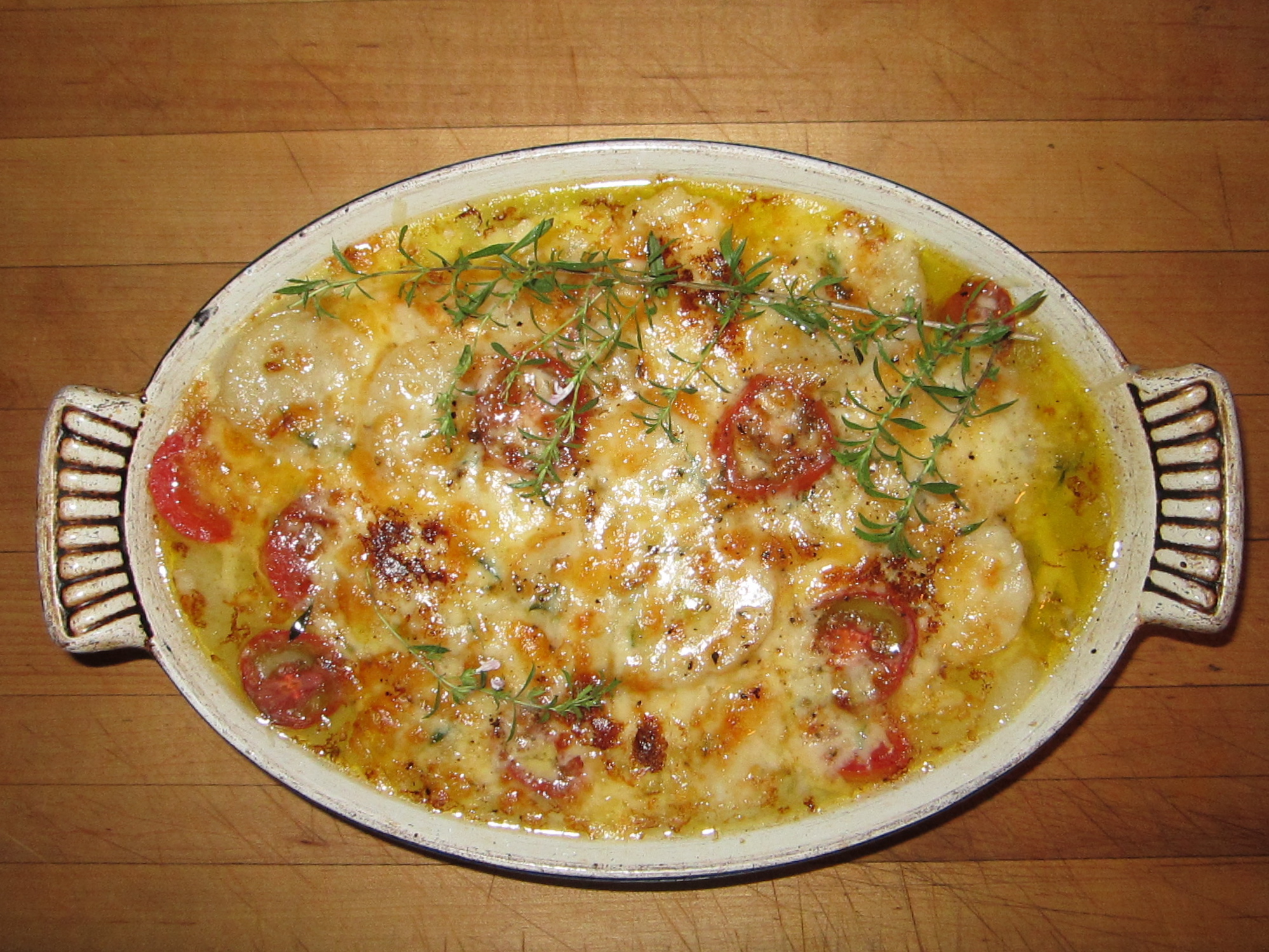 It truly was a marathon, and there were moments -- like after our second dessert course (thank you Chef!) at Le Bernardin and after the 17th course (a bread course!) at Blanca -- when I thought I wouldn't make it, but I survived to happily tell the tale. After an eating week like that, I know I should be doing some sort of cleanse or going on a seven mile run, but cleanses give me headaches and I can't find my running shoes. Instead, I am eating a tomato sandwich and sharing my mother's recipe for Coquilles St. Jacques à la Provençale, which has been a favorite since I was a wee tot.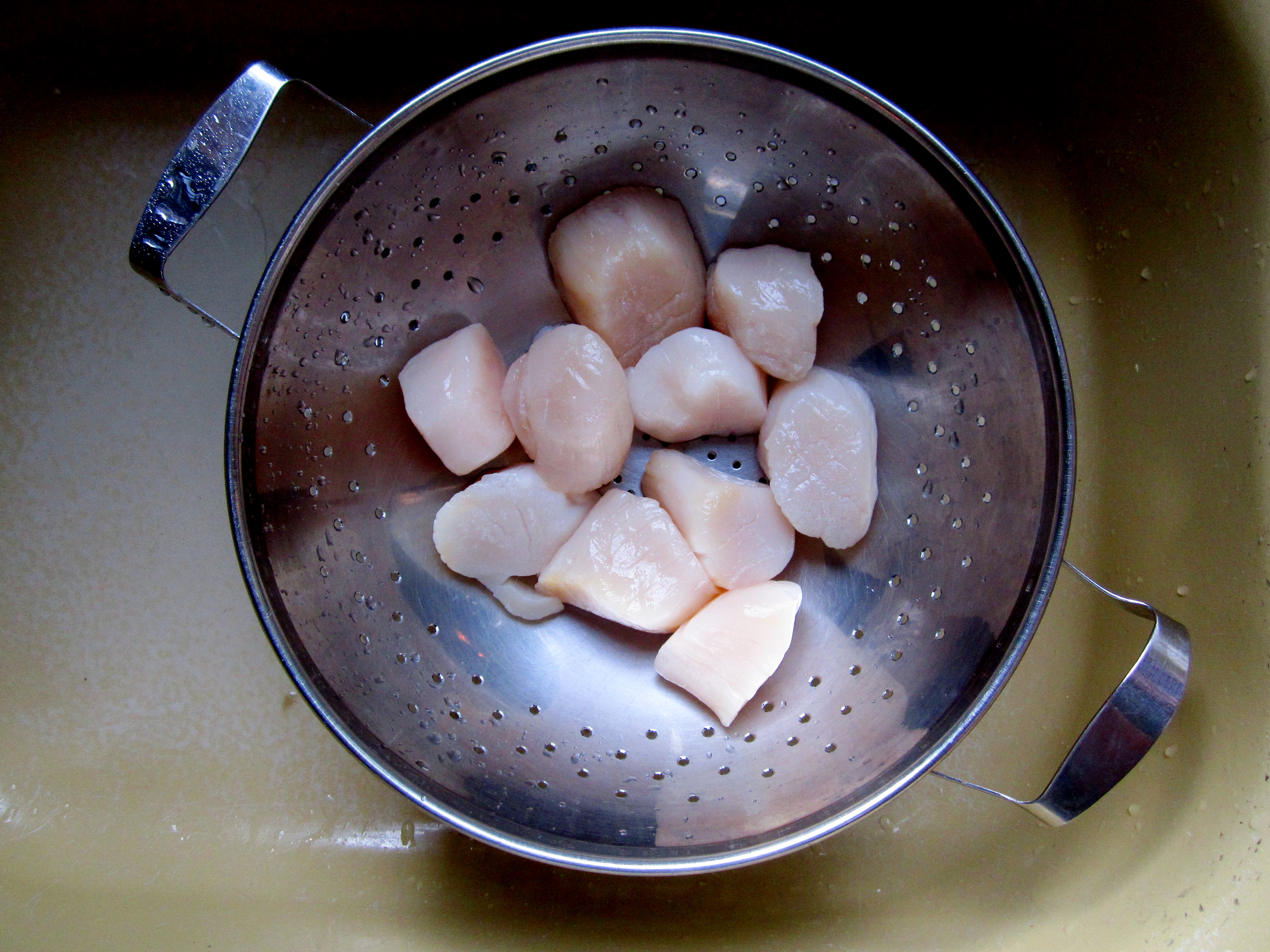 I've been watching my mother cook all my life, and I adore her little quirks. I used to sit on top of the refrigerator -- the only place to sit in our tiny galley kitchen where I could observe and chat without being in the way -- and watch her pull the muscles off the raw scallops and pop them into her mouth. She still does it; she still holds a wooden spoon like a wand; she still shakes the scallops in a plastic bag to coat them with flor. These ticks and tricks have become a delicious ritual. While I love fish crudos and tartares and have been eating them with gusto all summer, there's nothing like my mother's Coquilles St. Jacques. The sweetness of those sautéed shallots and and scallions, the thick winey sauce and barely-cooked scallops with a gruyere crust are wonderful on a cool, late summer night with local salad greens and corn from our neighbor's field. We added sliced heirloom tomatoes for color and as a nod to the season.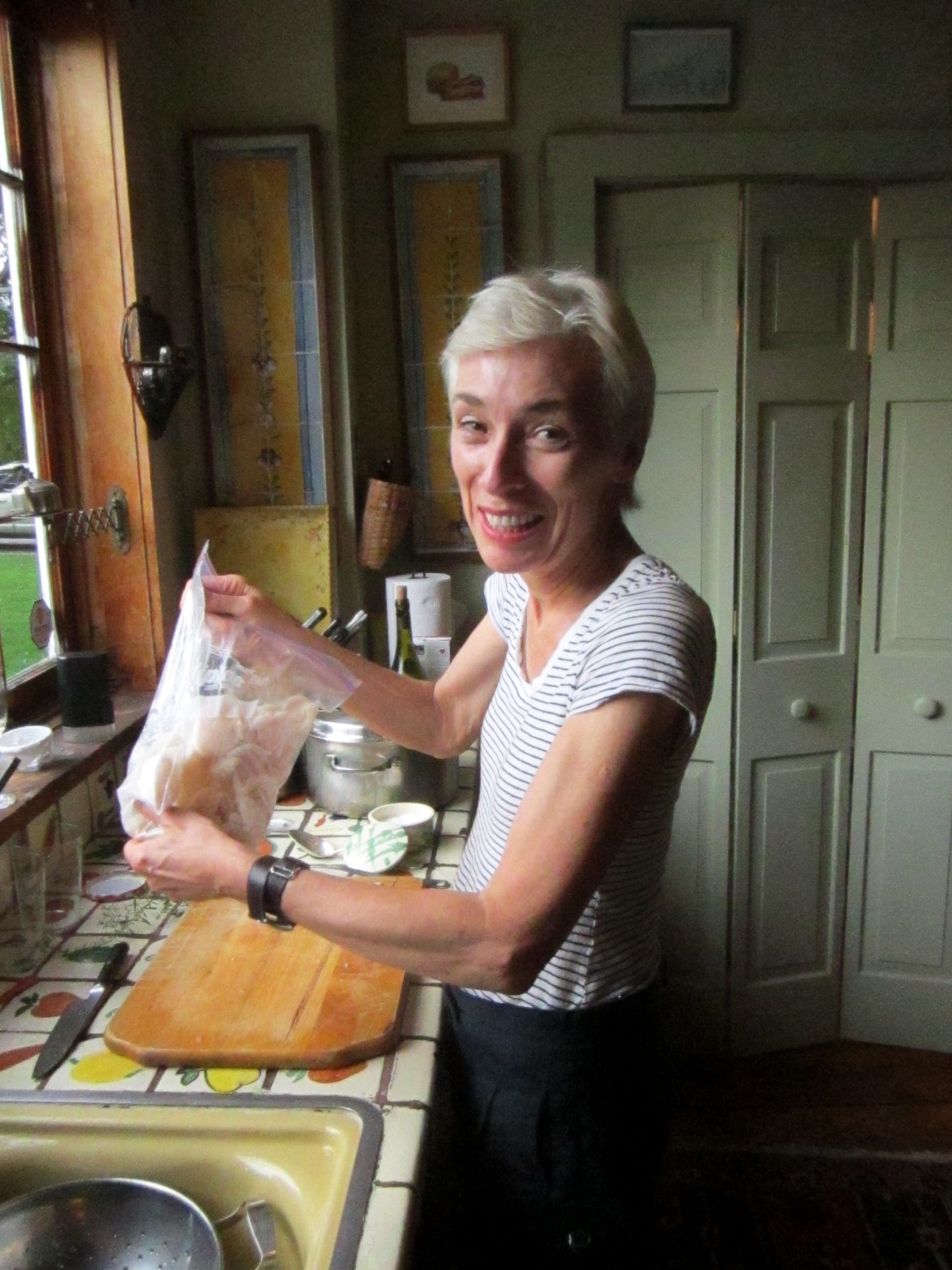 Ingredients:
(for 4 - 6 servings*)
2 or 3 scallions, thinly sliced
2 tblsps minced shallots
2 gloves garlic, minced
1 1/2 lbs sea scallops, washed and dried well*
salt and pepper
2-3 tblsps sifted flour
3 tblsps butter
1 tblsp olive oil
2/3 cup dry white wine, such as a sauvignon blanc or chablis
small bay leaf
1/8 tsp dried thyme
1/4 cup grated gruyere
Over low flame, sauté scallions and shallots in olive oil until tender but not browned, add the minced garlic and cook slowly for about one minute; set aside.
Slice the scallops into 1/4 inch rounds. Put the scallop rounds in a plastic baggie, sprinkle with salt and pepper and with sifted flour; shake baggie until the scallops are well coated. Sauté the floured scallops quickly in hot butter and olive oil about 2 minutes. Add wine to the skillet. Add the herbs and scallion-shallot-garlic mixture. Cover the skillet and simmer about 3 - 4 minutes. The sauce should thicken slightly. Transfer into an broiler-proof au gratin pan (or individual scallop shells if you prefer). Sprinkle 1/4 cup of grated gruyere and dot with a tablespoon or two of butter. Brown briefly under broiler and serve immediately.
*Each person should have 1/4 lb. scallops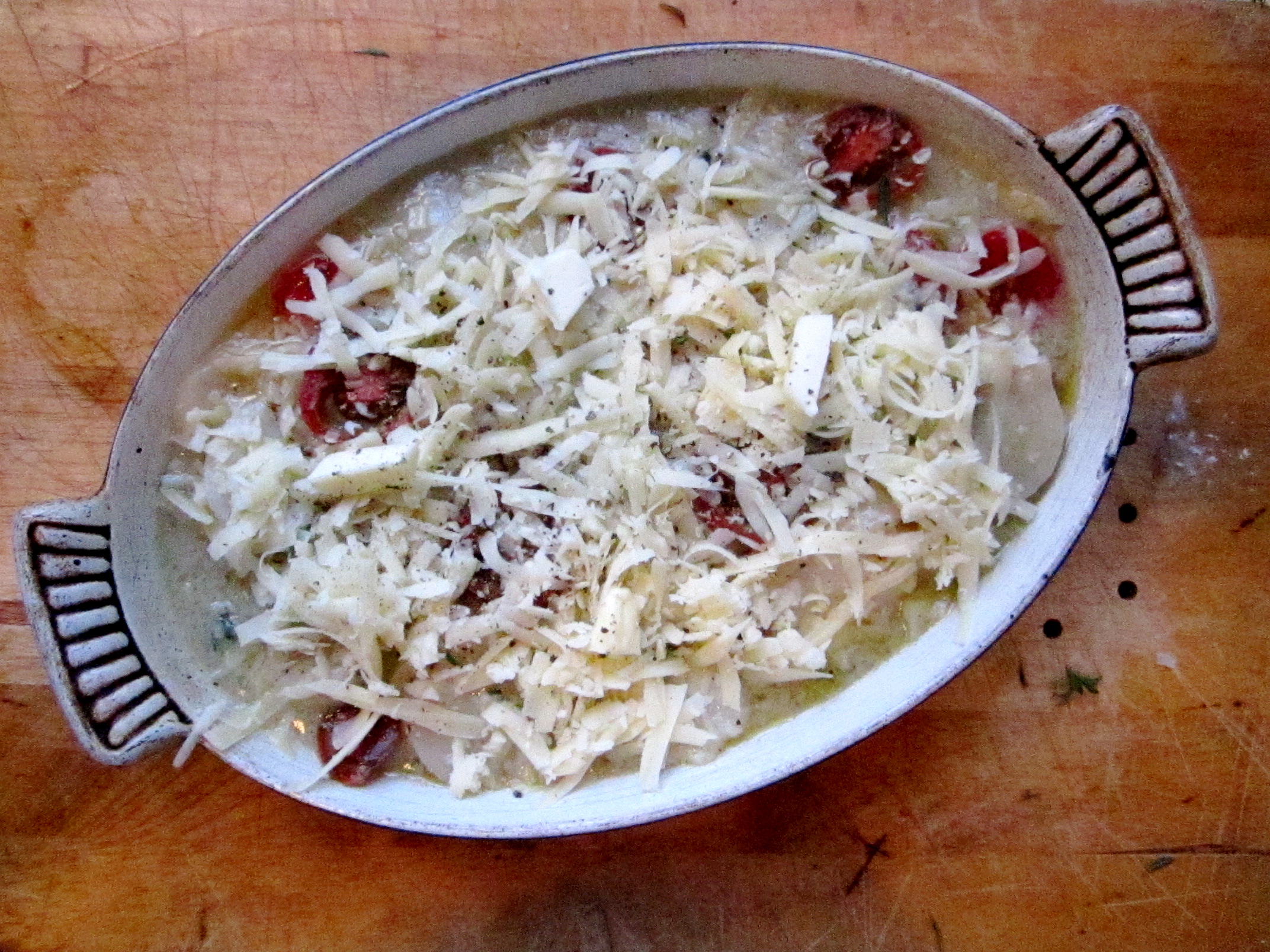 Originally published on The Lovage.
Follow Tarajia Morrell on Twitter: www.twitter.com/theLovage
Coquilles St Jacques is one of my husband's favorite French dishes.  Before we had kids, we would try and spend every other Christmas in France and this dish was always on the table, usually as a starter, but I think they are filling enough for a main course if served with a salad.
They are extra festive when served in real scallop shells, which are oven safe.  You can find them here in my Amazon Shop (this link goes to Amazon where I am an affiliate partner)
I love this recipe for holiday entertaining because you can make them in advance. Just portion them out in the shells, top with the bread crumbs and cheese and place in your fridge on a baking sheet. Then just pop in the oven to bake when ready to serve!
For a step-by-step demo of this recipe you can watch my video tutorial below! CLICK HERE TO SUBSCRIBE TO MY YOUTUBE CHANNEL (it's free!) and never miss a recipe. New videos post each week.
If serving as a starter, these pair nicely with my Coq Au Vin

Coquilles St. Jacques (Scallop Gratin)
1 pound of scallops (453 g) , cut into quarters
5 tbsp (75 g) butter
1 shallot, minced
1 leek, white parts only sliced
1 cup sliced mushrooms, roughly chopped
2 tbsp (30 g) butter
1 lemon, zest and juice
1 ½ (350 ml) cup dry white wine
1 bay leaf
½ (2.5 g) tsp fresh thyme
½ (2.5 g) tsp salt
2 tbsp flour (15 g)
1 cup (240 ml) of heavy cream
1 cup (150 g) bread crumbs
½ cup (45 g) grated gruyere cheese
2 tbsp (11 g) freshly chopped parsley
Melt 2 tbsp (30 g) of butter in a pan. Add shallots and leeks and cook until soft. Add mushrooms. Cook until they release their juices. Set aside
In a large sauté pan, add wine, bay leaf, thyme, lemon zest and juice, salt and pepper. Bring to a boil. Reduce to a simmer and add scallops. Cook for 4-5 minutes until scallops are slightly firm (do not over cook). Drain all liquid expect about 1 cup (240 ml). Set aside.
Melt remaining 3 tbsp (45 g) of butter, add flour and cook for 1 minute. Add the scallop liquid and cream. Cook until reduced slightly, and mixture has thickened.
Add vegetable and scallops back into the pan, stir until combined. Then portion out into scallop shells, or ramekins. Sprinkle with bread crumbs, and cheese. Bake at 400 F/200 C degrees until bread crumbs crisp and cheese melts. If re-warming from the fridge, bake for 20 mins covered with foil until warmed through, then a few mins under the broiler to allow cheese to crisp up.
Filed Under: Appetizers, Holiday, SeafoodTagged With: French Recipes, Holiday Recipes