Carola Dunn Bibliography Meaning
Carola Dunn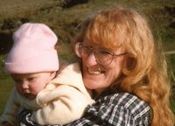 Tweet
Carola Dunn is the author of more than 30 Regency romances, as well as 17 mysteries (the Daisy Dalrymple mystery series is set in England in the 1920s). Ms. Dunn was born and grew up in England, where she got a B.A. in Russian and French from Manchester University. She travelled as far as Fiji before returning to settle in California. After 30 years in the US, she says she still sounds as if she arrived a month ago.
Prior to writing, Ms. Dunn's various jobs included market research, child-care, construction--from foundation trenches to roofing--and writing definitions for a dictionary of science and technology. She wrote her first novel in 1979, a Regency which she sold to Warner Books.
Now living in Eugene, Oregon, Ms. Dunn has a son in California who has just made her a grandmother, and a large black dog named Willow who takes her for a walk by the Willamette River each morning.
Series
Cornish Mystery
Books:
Requiem for a Mezzo
, February 2017
Trade Size
Buried in the Country
, December 2016
A Cornish Mystery #4
Hardcover
Death at Wentwater Court
, March 2015
Paperback
A Colourful Death
, October 2013
Cornish Mystery
Paperback
Gone West
, February 2013
Paperback
Valley Of The Shadow
, December 2012
A Cornish Mystery #3
Hardcover
Manna From Hades
, October 2012
Cornish Mystery #1
Paperback (reprint)
A Colourful Death
, June 2010
A Cornish Mystery #2
Hardcover
Black Ship (Daisy Dalrymple Mysteries)
, September 2009
Paperback
Sheer Folly
, September 2009
Daisy Dalrymple #18
Hardcover
Gunpowder Plot
, November 2007
Daisy Dalrymple #15
Paperback (reprint)
The Bloody Tower
, September 2007
Daisy Dalrymple #16
Hardcover
Fall of a Philanderer
, December 2006
Daisy Dalrymple #14
Paperback (reprint)
Mistletoe And Murder
, November 2006
Daisy Dalrymple #11
Paperback (reprint)
Death at Wentwater Court
, September 2006
Daisy Dalrymple #1
Paperback (reprint)
Gunpowder Plot
, September 2006
Daisy Dalrymple #15
Hardcover
Styx and Stones
, June 2006
Daisy Dalrymple #7
Paperback (reprint)
A Mourning Wedding
, November 2005
Daisy Dalrymple #13
Paperback (reprint)
Die Laughing
, March 2005
Daisy Dalrymple #12
Paperback (reprint)
To Davy Jones Below
, July 2003
Daisy Dalrymple #9
Paperback (reprint)
Rattle His Bones
, March 2003
Daisy Dalrymple #8
Paperback (reprint)
Dead In The Water
, July 2002
Daisy Dalrymple #6
Paperback (reprint)
Damsel In Distress
, March 2002
Daisy Dalrymple #5
Paperback (reprint)
The Case of the Murdered Muckraker
, February 2002
Daisy Dalrymple #10
Hardcover
Murder On The Flying Scotsman
, November 2001
Daisy Dalrymple #4
Paperback (reprint)
Requiem For A Mezzo
, July 2001
Daisy Dalrymple #3
Paperback (reprint)
The Winter Garden Mystery
, March 2001
Daisy Dalrymple #2
Paperback (reprint)
DAISY DALRYMPLE MYSTERIES

Scroll down for Daisy's Bibliography

If US readers have trouble finding some Daisy titles, the UK editions (all the same words!) are available from www.BookDepository.com --no shipping charge
Murder on the Flying Scotsman will be out in trade paperback April 24th with beautiful new artwork!

Daisy's 22nd adventure

Ooops--Superfluous Women has been out for six months, and I've only just realised I never posted it here!

"Superfluous women" is the sobriquet the press attached to the million or so women who, after the slaughter of WWI, had little hope of ever marrying and having a family, as they had been brought up to expect. A friend of Daisy has set up house with two other young women. When Daisy goes to visit, an alarming discovery in the cellar of the house they've just moved into makes the three prime suspects in a thoroughly nasty murder.

---
---
Daisy's 21st adventure



Daisy's cousin Lord Dalrymple must find his legitimate heir. Claimants arrive from all quarters of the globe and he enlists Daisy's assistance in separating the false from the true.

---
---
GONE WEST, the 20th Daisy Dalrymple mystery



Something peculiar, possibly sinister, is going on at the isolated farm in Derbyshire. Daisy's old schoolfriend, Sybil, who lives there as confidential assistant to an author, has heard of Daisy's prowess at investigating mysteries. Invited to visit, Daisy finds a house full of family and hangers-on--and full of resentment, old grudges, jealousy, and envy.


When unnatural death enters the picture, the local police soon find out that Daisy's husband is a Scotland Yard detective. Alec is called in to help--or is it Daisy who's helping Alec?--to discover the villain.
---
---


This is the UK cover--basically the same, but they've kind of brightened it up.

---
---

ANTHEM FOR DOOMED YOUTH
Daisy's 19th adventure, now out in US paperback.

Kirkus: "amusing and sprightly"

Mysterious Women: "gripping and fascinating"

Publishers Weekly: Set in 1926, Dunn's enjoyable 19th Daisy Dalrymple mystery (after 2009's Sheer Folly) will please fans of traditional English whodunits. When the graves of three men turn up in Epping Forest, once a royal hunting preserve just outside London, Det. Chief Insp. Alec Fletcher, the lead investigator, is relieved that his wife, Daisy, along with her friends Melanie and Sakari, are away at their daughters' school for the weekend, so she won't be able to nose her way into the case. Later, Melanie's daughter discovers a dead teacher while lost in the medieval maze of Bridge End Garden. Leave it to clever Daisy to figure out that all the bodies are related to the Great War. The aristocratic but very modern Daisy makes a formidable amateur sleuth as she acts to stop more murders and get justice for the victims.
---
---
This is the poem that gave me the title:

ANTHEM FOR DOOMED YOUTH,
by Wilfred Owen

What passing-bells for these who die as cattle?
Only the monstrous anger of the guns.
Only the stuttering rifles' rapid rattle
Can patter out their hasty orisons.
No mockeries for them from prayers or bells;
Nor any voice of mourning save the choirs,--
The shrill, dementedchoirs of wailing shells;
And bugles calling for them from sad shires.

What candles may be held to speed them all?
Not in the hands of boys, but in their eyes
Shall shine the holy glimmers of good-byes.
The pallor of girls' brows shall be their pall;
Their flowers the tenderness of silent minds,
And each slow dusk a drawing-down of blinds.

Wilfred Owen was killed in action in France one week before the Armistice.
---
---
SHEER FOLLY, the latest Daisy Dalrymple mystery.
In Daisy's 18th adventure, she and her friend Lucy go to Appsworth Hall to investigate a grotto for their book on follies--the architectural kind. They find themselves investigating a murder.

Mr Pritchard, owner of Appsworth, is a nouveau riche manufacturer of plumbing products. He has assembled a strange collection of house-guests: the impoverished widow of a general and her beautiful daughter; a high-up civil servant, with his flirtatious wife and his youthful secretary; an overbearing and obnoxious earl; and a mysterious Canadian. Also present are his widowed sister-in-law and her son, now manager of the plumbing business. Daisy and Lucy's husbands, DCI Alec Fletcher of Scotland Yard and Lord Gerald Bincombe, arrive just in time to witness murder.

And practically every one of the disparate residents has a motive for murder!

Now out in the US and UK/Commonwealth.
US paperback March 1.

---
---
REVIEWS: Dunn and Daisy are at the top of their game in this entertaining, old-school story of drawing-room manners mixed with murder.
Booklist

This beautifully calibrated historical cosy is very strongly plotted, with a superb setting and excellent characterizations, and shows Dunn's confidence and style at its best. You won't need to have read the previous entries in the long series to have a very good time with the latest, as she is quite expert at giving you all the information you'll need but no spoilers of previous books, and I'd recommend your seeking them out. With just enough sweetness, a neat soupçon of tart humor, and a bit of sly commentary on the social classes, SHEER FOLLY is another winner for Dunn, who exhibits perfect balance and pacing. Everything is just right for those of us who enjoy genteel historical murder with a side dish of satire.

Reviewed by Abbey Hamilton/ReviewingTheEvidence.com



Order from:Seattle Mystery Bookshop

The Book Depository

Mysterious Galaxy Books

M is for Mystery


BLACK SHIP, the 17th Daisy Dalrymple mystery

Now out in paperback

Publishers Weekly:...Dunn's diverting 17th Daisy Dalrymple 1920s mystery ... Dunn provides an intriguing view of the Prohibition era from the English perspective, besides casting a witty light on the social changes of the day.



Kirkus: Ever-curious Daisy ... adds an interesting take on Prohibition...

Also out in the UK and Commonwealth

Here is a link to an article I wrote about the trials of rum-runners--some very funny stories I discovered while researching for Black Ship:

http://blog.thejurorinvestigates.com/2008/09/03/rumrunners-on-trial.aspx


---
---
DAISY COMES TO ENGLAND AT LAST!

The first Daisy mystery: REVIEW
The Courier-Gazette, Rockland, Maine
...a murder-of-manners...neat and sharp...this one is heaven for those who miss Allingham and Sayers--a country-house puzzle par excellence with a setting that cries out for the BBC to film it...Perfect hammock reading that never insults your intelligence or twists your brain--a neat trick to pull off, it's a portrait under glass of another era.


---
---
The second Daisy mystery: REVIEW
Mystery News: Daisy is a believable, likable heroine. This book holds true with the social mores of the time, with Daisy working hard at being independent, without flouting custom more than necessary. I look forward to more.






The third Daisy mystery: REVIEWS
Faris Cassell, Eugene Register-Guard: Dunn has done a "spiffing" job of spinning a good low-key mystery...Dunn's portrayal of the shifting English social customs provides a fascinating backdrop. The charming Dalrymple is one of a generation of upper crust young people who didn't exactly discard strict English codes of behaviour but gave them a good airing out. Dunn adroitly brings out issues of ethnic and gender prejudice that remain difficult problems. Her detailed picture of English life...quickly reminds us how different the times were...A good read.

Rachel Hyde, MyShelf.com: There is not too much tragedy here to mar a good mystery, and this is a true puzzle whodunit. This third novel in the series has improved on the first two with an even more tangled plot, replete with red herrings and colorful suspects galore. This is less a novel looking closely at post-war England and more a straightforward detective novel, very classic era and thoroughly enjoyable with the right light touch and plenty of plot. Effervescent and a real page-turner.




Now out:

Daisy's 4th, 5th, and 6th adventures are now out in the UK and Commonwealth:

Murder on the Flying Scotsman Daisy sets off for Scotland--and never arrives! The train is halted at the border when a body is found on board.

Damsel in Distress Daisy's childhood chum's fiancee is kidnapped and he calls for her to help him rescue her.

Dead in the Water Shenanigans among a college crew rowing at Henley-on-Thames lead to murder, and Daisy's favourite cousin is involved.

My UK publisher has bought the next three, plus the new one due out in the US next year, Anthem for Doomed Youth.

---
---
More UK editions

The 7th, 8th, and 9th Daisy mysteries will be out in September in the UK and Commonwealth. Love the cover for Rattle His Bones!!

---
---

Daisy's Bibliography:

DEATH AT WENTWATER COURT

THE WINTER GARDEN MYSTERY

REQUIEM FOR A MEZZO

MURDER ON THE FLYING SCOTSMAN

DAMSEL IN DISTRESS

DEAD IN THE WATER

STYX AND STONES

RATTLE HIS BONES

TO DAVY JONES BELOW

THE CASE OF THE MURDERED MUCKRAKER

MISTLETOE AND MURDER

DIE LAUGHING

A MOURNING WEDDING

FALL OF A PHILANDERER

GUNPOWDER PLOT

THE BLOODY TOWER

BLACK SHIP

SHEER FOLLY

ANTHEM FOR DOOMED YOUTH

GONE WEST

HEIRS OF THE BODY

SUPERFLUOUS WOMEN

THE CORPSE AT THE CRYSTAL PALACE (July 2018)

And two short stories, STORM IN A TEA SHOPPE and UNHAPPY MEDIUM, published in anthologies, now available FREE at www.BelgraveHouse.com(click on Free Stuff)

Daisy's 4th adventure reincarnated


Daisy on display at Foyle's, London's enormous bookstore

Another display at Foyle's--UK editions, of course
This is my only book set in the US, so I was very happy with this review in Publishers Weekly: "Dunn captures the melting pot of Prohibition era New York with humorous characterizations and a vivid sense of place...Throughout her travels in the States, Daisy is keenly attuned to people and place: race relations, regional accents, even foods all add to the texture of the story."






Carola Dunn hits the nail on the head with her dialogue as one can just imagine themselves being transported back to the 20's and eavesdropping on real conversations taking place at Brockdene. MISTLETOE AND MURDER is a very fast and fun read both in and out of the Christmas season. Pay close attention if this is your fist encounter with Daisy and her clan and you will find yourself at the local booksellers for the remainder of the series. Carola Dunn's Daisy Dalrymple Fletcher and family are certainly people I would love to spend the Holidays with and look forward to ferreting out the first ten books in this series! Cosies Capers and Crimes


The eleventh entry in the Daisy Dalrymple series is replete with well-drawn characters, snappy dialogue, and interesting plot twists….With its ghost stories and rumors of buried treasure, Brockdene seems a fabulous setting for murder…. Dunn gracefully imparts historical facts…while painting a fascinating portrait of human nature. Easily the best entry in a charming series. Booklist

For fans of British cozies and Dorothy Sayers' novels, this is a very inviting situation. Library Journal

…Fun characters who turn this combo amateur sleuth—police procedural into a lighthearted historical romp. Fans of a buoyant easygoing who-Dunn-it that never takes itself serious[ly] will want to read Mistletoe and Murder. Midwest Book Review

What I particularly enjoyed about Dunn's work is her ability to convey the difficulties encountered in daily life back in the 1920s: the lack of electricity, the time required for the most basic activities, the far more rigid social strictures imposed upon everyone (not just women), and the technology (or lack of it) available to policemen at the time. Dunn does this without lecturing or preaching, which is no mean feat...a good book for a winter afternoon when there's a nice fire in the fireplace, and one is looking for a pleasant excursion into another time and place...Daisy seems like a nice young woman with a brain in her head, and the willingness to use it. ReviewingTheEvidence.com