Tutors Panaretos Homework Helper
Maria Simos-Levoune was born in Kythera on the 10/10/1934; she came to Australia in 1948. In 1958 she married Con Simos, and they had three children, Irene, Katina and Andrew. This excerpt is from the memoir she is writing for her grandchildren about growing up in Kythera.

My mother Katina Levoune nee Nicolasou was born in Aroniadiaka, Kythera on the 15th of August, 1901. She came to Australia in 1923 with her newly-married sister, Stamatoula Aroney, who went to live in Port Macquarie. My mother stayed with her sister in Bundarra till her wedding day where she dressed as a bride in Mrs. Marsellos' house in Kensington. She married my father, George Levoune, who had a fish shop in Balmain.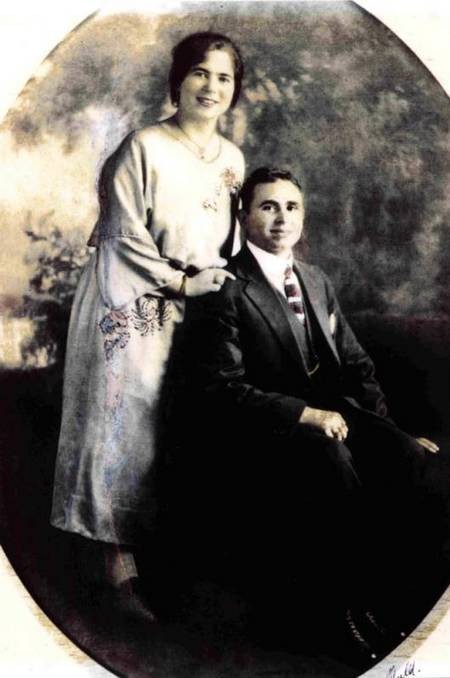 George and Katina's engagement photo 1923

My mother lost her first baby, then my brother Peter was born on the 23rd of September, 1925, weighing 12 pounds, my sister, Matina, was born on the 9th of July, 1927. In 1929 my parents decided to live in Kythera where they could build a large house and live off the income from Balmain. In 1932 another girl, Maria, was born, but sadly passed away eighteen months later, and I was born a couple of months after that.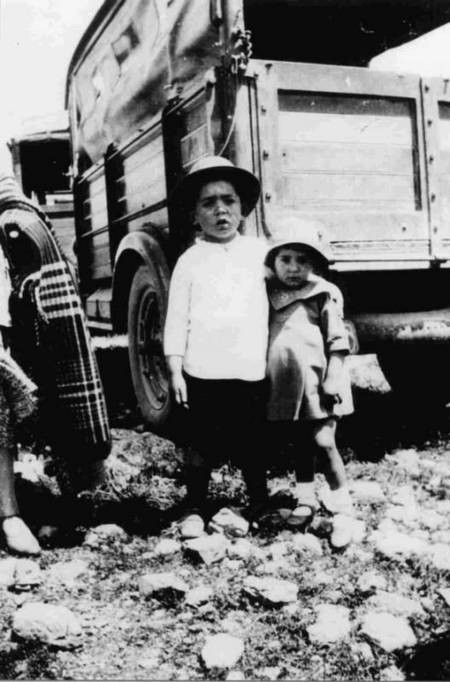 Peter and Matina Levounis

Because of the Depression the rents stopped coming so my father was forced go to Australia to work. That was in 1934, just before I was born. He was preparing to come back five years later but England declared war on Germany, preventing his return to us. We suffered during the war but we survived with what we could produce ourselves and by selling some of our possessions.
After the war my father brought us to Australia, except for my brother who was in the army. My mother passed away in Sydney on the 21st of June, 1954, from a brain haemorrhage. In 1956 my father went to Greece for my brother's wedding, and died there in 1973. Sadly, my father's dream for us to be together was never realised and we never again lived together as a family.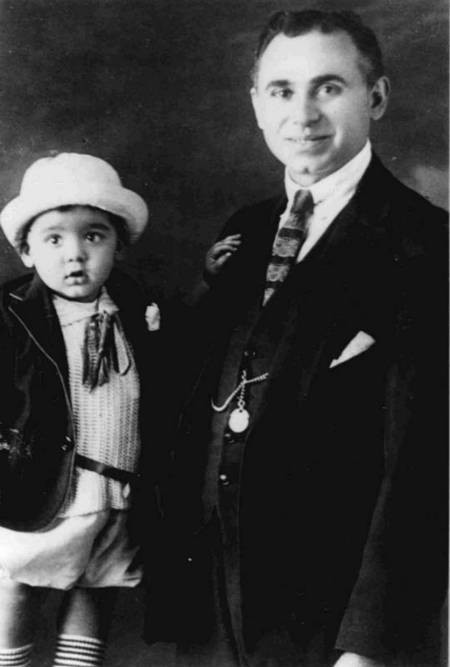 Proud father George with Peter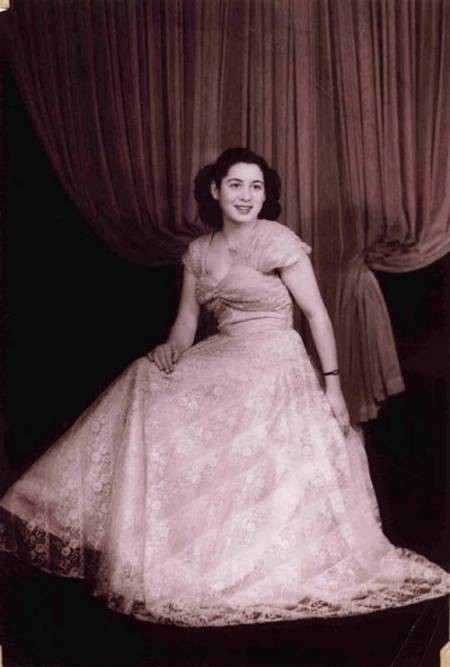 My brother, Peter Levounis, aged c. 23 years. The picture was taken in Athens, Greece, where he studied to become a doctor.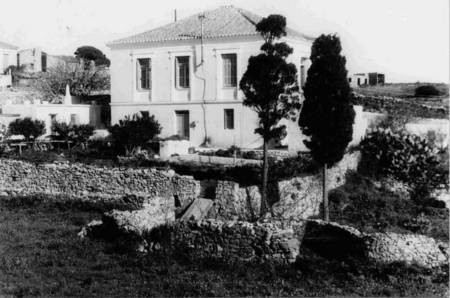 Father and son at Peter's wedding.

On the morning of the 10th of October, 1934, a girl was born, and if you can guess, that was me. My mother called me Maria to remind her of the little girl she had lost.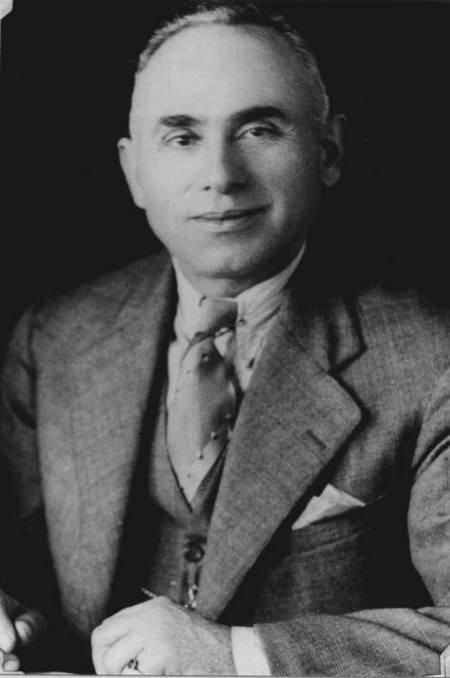 Maria at 17

Back in Australia my father started a new fish shop at 300 Darling Street, Balmain and immediately began sending us money. Although the economy was recovering it still took him five years to organise everything so that he could return to Greece to be with his beloved family. He had booked for the 7th September on the Otrando, but England declared war on Germany on the 1st, so he decided not to travel until things settled down.
In the meantime we went to live in Hora, the capital of Kythera so that my brother and sister could attend the only high school on the island. We rented the Kaloutsis house which was at the foot of the Kastro, surrounded by private chapels, all of them white. I was only five years old; I remember my first day at kindergarten, I was so excited I rushed out of the house and cut my eyebrow on the doorknob. I still have the scar. At the end of the school year we returned to our own house in Potamos.
On the 28th of October, all the high school children assembled in the square to hear that Prime Minister Metaxas had said OXI! to Mussolini. If the Italians wanted Greece they had to fight for it. Greece was at war.
Greece beat Italy, but Germany was a different story and within one month the Swastika was flying over the Acropolis. Two things happened under the German Occupation; communication between Greece and Australia ceased and in 1941, the schools closed indefinitely. So we packed up and returned to Potamos, to an empty house in Potamos and a four-year silence from Australia. We suffered a lot under the Germans but we managed to survive. My sister, Matina, was a hero during the war, sacrificing the best years of her life to support us.
In 1945, British paratroopers landed in Drymona and the war was over. I was very young and unaware of much of what happened at that time, but I will never forget and it is still vivid in my memory, the end of the war and everyone rejoicing; singing, dancing and my sister jumping on the bed and yelling 'Eirini! Eirini!' (Peace!) And best of all, we could communicate with our father again.
What he really wanted to do was to come back to Greece, but without a house in Athens, it was very difficult to educate us there, so he decided to bring us to Australia. Unfortunately Peter was in the army and couldn't leave the country anyway plus it wasn't easy to travel after the war, so until we could leave I went to school as usual.
I attended first year high school in Kallithea in 1946. We were staying with our loving relative, Doris Megaleconomos, who gave me the beautiful cross I wear; my father gave it to her when he christened her in 1923. I went to second year high school at Agia Sophia in Piraeus where I stayed with my father's sister, Anna Levounis, who gave me her precious gold earrings.
After three attempts to come to Australia, we finally left on a war plane on the 4th June, 1948. We were supposed to arrive in six days, but there were problems with the plane and we were forced to stay in Macassar in India for twenty days. It was very hot and we had to sleep under the mosquito nets, even so, my mother still got malaria which made her very sick a few years later.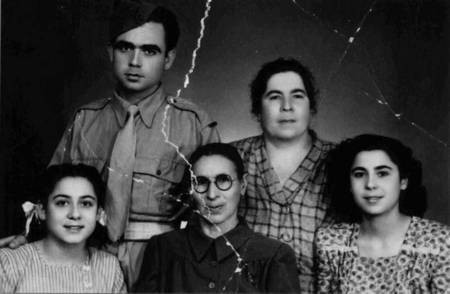 The Levounes' house in Potamos

I have lived in Australia for so many years and yet I still think of the beautiful house I was born in. I remember how big it was with high ceilings and large windows overlooking a garden filled with fruit trees; lemons, oranges, grapefruit, cherry, plum, apricot and fig. It was full of scented flowers and vegetables and the stone wall that surrounded it was draped with bunches of red and white grapes. Every time I looked out of my window I'd see a mandarin turning from green to orange just waiting for me to pick it.
There were verandas front and back upstairs and three rooms on either side of a central corridor. The first room on the left was the formal lounge which adjoined the dining room. It had folding doors so that it could become a large entertainment area. There were three bedrooms and a kitchen big enough to eat in where there were stairs going down to the cellars and storeroom.
A flushing toilet was a rare thing in Kythera then; ours was outside the back veranda and it had a water tank in the roof. I was always scared to go there by myself at night. I remember with embarrassment that I asked my brother to take me when my sister was away.
The house was surrounded by a concrete yard with cement seats and planters full of my mother's colourful flowers. Nearby was a laundry with a concrete pool on the roof for the water which came from the well. There was another storeroom away from the house and a toilet and the stables for the animals which were vital to country life, especially during the war years. We had rabbits, chickens and of course, the rooster which woke us every morning, a goat and the humble donkey, as necessary to us then as a car is today.
There was a separate kitchen near the main house which we used all the time; it had a wood oven where my mother used to cook delicious baked dinners, bread and scrumptious sweets.
The front veranda overlooked the bridge at Potamos and I could watch people crossing it; every time I heard the horn of the bus from Agia Pelagia port, I would run to see it passing by. The gigantic Ilariotissa church stood like royalty near Potamos square. The bells would ring one way for happiness and another way for sorrow. I remember writing an essay about my town and the bells when I was ten and my teacher was very impressed.
On the lintel above the front door is the year the house was built, 1930 and the initials Γ,Π,and Λ: Γ which stands for Georgios; Π which stands for Panayiotis; Λ, which stands for Levounis (Λεβουνής). My brother, who inherited the house, has two sons, George and Petros; my father said that the house now belongs to George and Petros Levounis so the initials don't have to change. How clever.
Our home was near the square, but far enough away for privacy. We only had two close neighbours. One family had four children, all older than me and the other had one girl who was younger and I used to play with her a lot. My favourite places were upstairs in a little cupboard in the dressing table where I had all my toys or under the arches of the house where the builder had made a toy house where I played mummy cooking a meal. No wonder I still like cooking.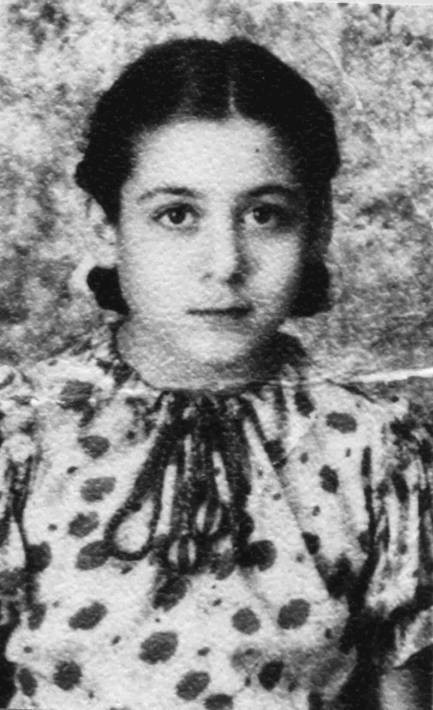 My father, George Levounis

I always knew my father was far away and waited for him to return. I believed he could see me dancing for him through the glass of his photo which hung on the wall. Even though I had never met him, I missed him badly, but I grew up with the unconditional love of my family. They were all very protective because I was the baby. My brother and sister used to curl my hair with rags to make me beautiful. My sister used to put me to bed; she always cared for me.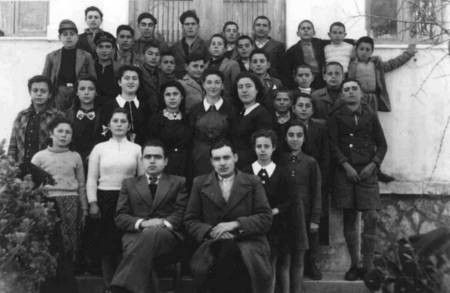 The only photo Maria has which includes her mother, brother and sister; it was taken just before they left Greece
Back row: Peter and Katina
Front row: Maria, Anna Levoune and Matina.
1948.

I have a deep love and respect for my sister, Matina, who has supported me my whole life and has sacrificed many things for my sake and I will always be grateful. I remember one time that she knitted a sweater for me but I complained it was too small. Too weeks later she gave it to me again and I was satisfied that she'd fixed it only to find out later that nothing had been done to it. I must have been a menace because my nickname was 'Grinnia', my brother even made up a song about it. When he made a radio, convinced me that the voice I heard was our father.
Our beloved mother was a wonderful person. She was loving and kind and generous. She had a great belief in education so as well as our normal school we also had private English lessons. She taught me self-respect and to do the right thing like going to church every Sunday. I don't remember her going out much, most of the shopping was delivered, but I remember begging her to come to my sixth class celebration as I had received honours like my brother and sister.
The primary school I went to was just five minutes away. Maria Protopsaltis was my first and second grade teacher. She was a friend of the family and her sister, Panagiota, used to take me home to play with the other children in the neighbourhood. Our regular teacher, Mr. Melitas, was in the army. One hundred and forty children went to that school, but we didn't get much schooling because of the war.
There was much to be done to help our soldiers. Those who could knit, like my mother and sister made them warm pullovers and socks and we sent parcels; even our father contributed by sending money from Australia.
I will never forget the school play our handsome teacher produced when he returned from the army because I was in it. He chose four girls for the seasons; the prettiest was spring with flowers in her hair and she sang a song, the skinniest was winter, she had cotton wool in her hair and said a poem. Autumn had leaves on her dress and because I had a pretty dress with cherries, I was Summer and I held a basket of fruit.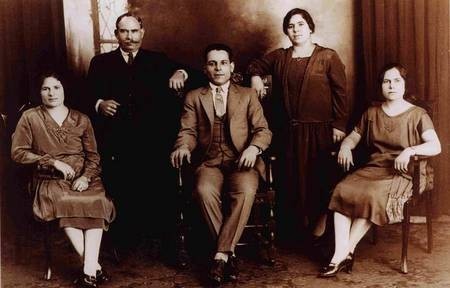 Maria in her cherry dress, aged 10

I was a neat writer and when the printing machine at the bank broke down I was chosen to write the class reports. What a carefree time that was. My weakest subject was maths and my sister always tried to help me as she did in many things. My mother told me to always listen to her advice because she was older and wiser.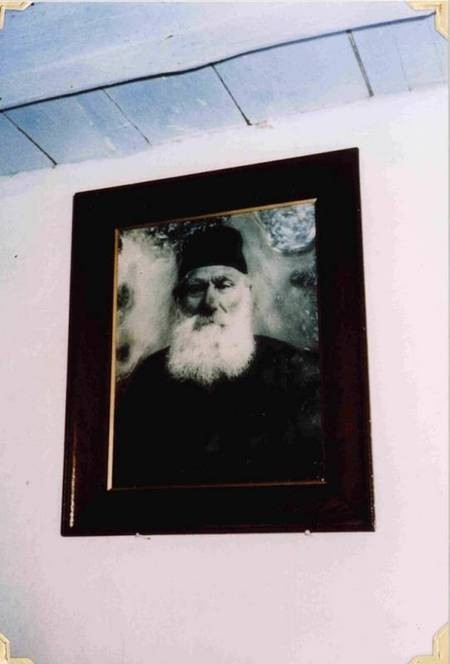 Peter was a good student and became a tutor; here his is with his teacher, Mr. Triarchis, and the class at Astiko in 1945

My brother was always studying in his office; from 1941 to 1943 he was a tutor at the mixed high school at Potamos. He went on the study medicine at Athens University, but my mother never saw him become a doctor because she passed away before he completed his degree.
Matina was an excellent student and even though she missed two years school because of the war, she was still accepted by Athens University to study dentistry. Meanwhile, I continued to live in Kythera with my mother. I enjoyed school and homework and always chose a fine point ink pen to do it in.
Every afternoon after school, my mother would have a large mug of warm goat's milk and a koulouri waiting for me. I enjoyed playing with my friends, going to Potamos shops to do messages and buy lollies; every stone on that road was familiar to me.
On Sunday we went to Potamos markets where people came from all over the island with their goods. You could get anything there, fruit and vegetables, fabrics, clothes. The local barber would cut my hair and one time I turned up smelling of kerosene as my mother tried to protect me from a lice epidemic at school.
When I was about ten or eleven my mother and I stayed at Mirtidia from the first of August, where it is traditional for people to stay for a period fifteen days to celebrate the Panagia's entry into heaven. The end of this time was celebrated by a dance in the church square.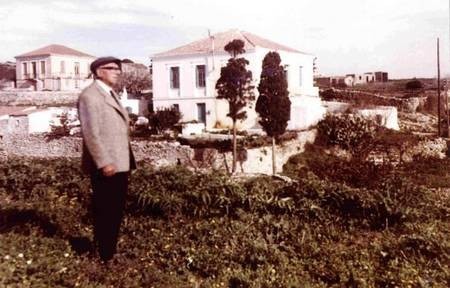 Papa Levounis.
This picture hangs in his cell, number 10, at the monastery. He left a written document allowing any of his descendants to stay in that cell.

I visited my grandmother in Aroniadika many times. She was our strength and our guidance. She lived in a double storey house surrounded by olive trees. She had her animals, her chickens, a goat and a donkey. My grandmother taught me to tell the time from the sun. One time my mother sent me to her with a loaded donkey, only half way there the load came off. Luckily someone helped me to arrive safely.
My grandmother lived alone as my grandfather had passed away and all of her surviving children had gone away, one to Athens and the rest to Australia. Her great heartbreak was the death of my aunt who died of a brain haemorrhage on the morning of the day she was to marry the love of her life. It was such a tragic story that it made the front page of a Sydney newspaper.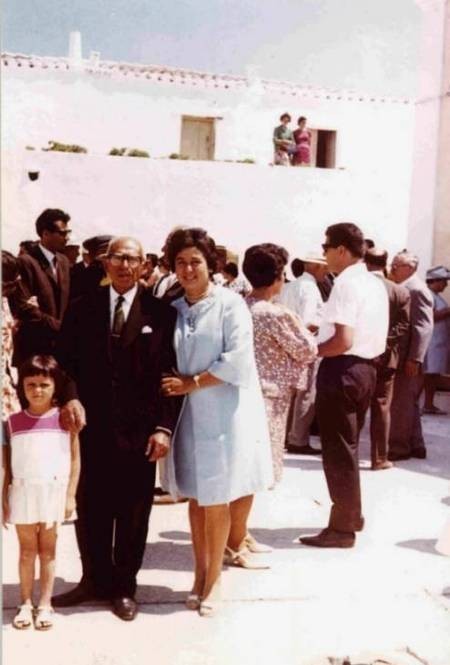 Dimitrios Nicolassos with four of his five children.
Seated from left: Stamatoula, her rwin Theodore, and Stavroula, who died on her wedding day in 1935.
Standing: Dimitrios and Katina

My grandmother was a tall, slim woman with beautiful teeth and she was always happy to see me. Her maiden name was Combes and out of seven children she was the only girl. She passed away in 1952 at the age of 75. I don't remember either of my grandfathers but I do remember my father's stepmother who lived with us for a few years before we went to Hora in 1939.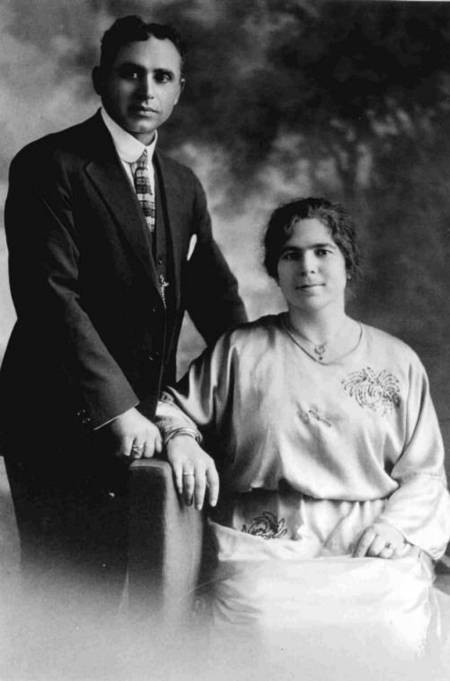 Maria's grandmother Maria Nicolassos (nee, Combes) with her grandson Dimitrios Souliotis.

Across the paddock from us lived my godfather, Zachariah Fardoulys. He lived with his sister Helen, who later came to Australia and married a Cassimatis. My godfather was well-off; I remember that once he gave me a silver coin and I couldn't wait to spend it. I always thought that I'd been christened at Potamos, but I've recently found out from my niece, Maxine, that I was christened at Mirtidia.
Once a year we went to Agia Pelagia to wash our blankets in the sea. We used to go the night before and sleep on the beach near the little church of Agia Pelagia. One particular time, my mother told us not to sleep near the church but to go further away. Early in the morning it was blown up by two local fishermen who were trying to open a bomb they had found on the beach. They died instantly and all the icons were shattered. I remember the Germans asking us where the 'boom boom' came from.
My memories during the war: the Germans and the Italians coming to the island, especially the Germans. I was scared of them with their striking silver- grey uniforms and their long, shiny back boots. How can I forget that we had to salute them and say 'Heil Hitler'? I remember some Germans staying across from our house and we had to darken our windows so there was no light even though we had no electricity and only used oil lamps. We dug shallow graves near the house to hide, in case we were bombarded by the enemy.
We had to exchange most of the fine items our parents had brought from Australia such as linen and silverware and cutlery for necessities; even our beautiful gold christening crosses were traded, and our mother went without bread for us.
Our local priest hid an Australian soldier in his house who married his daughter at the end of the war, and brought her to live in Australia.
When I was twelve and just finishing primary school the time came for me to leave our beautiful home. I left my mother in Kythera and joined my brother and sister who lived with Doris Megaleconomos and her family in Kallithea. I remember always getting lost in the large, busy streets. Luckily the school was on the street where we lived; it was the same school my sister had attended although she had left the previous year.
I never went to my brother's room because he had a skeleton in his closet and I was a scaredy cat. But Athens was very exciting and I had a lot of first experiences there; the first time I'd ever used a door bell and the first movie I had ever seen, it was Pinocchio by the way.
We'd go visiting and shopping with Doris and her brother Con. Her mother was a dressmaker and made me new dresses. It was a lot of fun. A year went by and I moved in with my Aunty Anna Levounis who lived in a one bedroom flat in Piraeus; she owned the house in front which she rented out. I was happy there. She had a lot of different coloured flowers in pots and a vine provided shade and sweet grapes. That garden inspired me to write a composition for school.
My new school was a twenty minute walk away. I met many girls there and I remember going with them on picnics on the mountains surrounding Athens. However I never finished that school year because we left for Australia in June to begin a new life.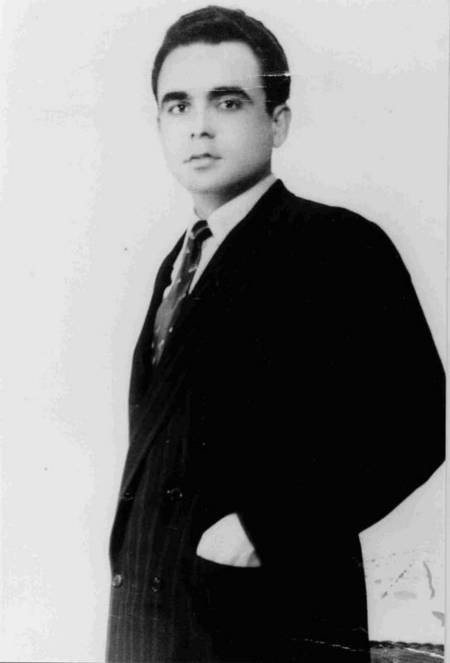 George Levounis in front of his beautiful house in Potamos.

Twenty years later I brought my three children to that beautiful house in Potamos that I loved so much, but I came as a visitor; it was no longer my home. It was unforgettable because it was my opportunity to live with my father for the first time ever. We spent two whole months together. The upstairs was rented but I didn't complain about having to stay in the basement because I enjoyed remembering my childhood. I found the fading footprint I left in the cement at the entrance of the house when I was a baby, but I was sad to see the doll's house was gone.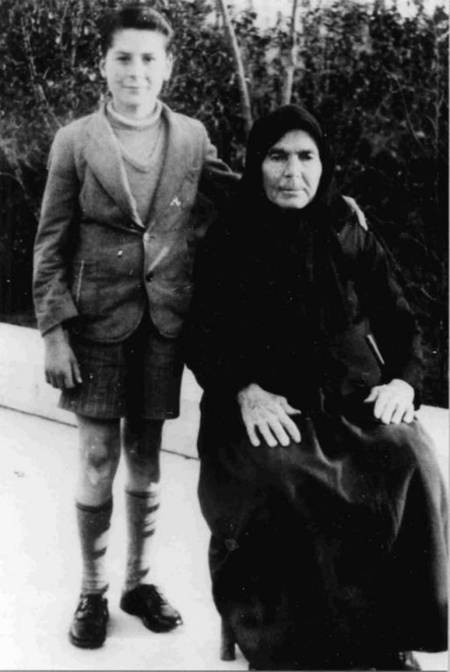 Maria Simos-Levounes with her father, George.

I went to the small bridge which joined the two gardens and recalled that when my sister was a little girl she tried to cross it with her eyes closed and fell into the creek below, causing our mother to faint and remain paralysed with shock for six months. My sister still has the scar on her forehead. All the time I was there, I was remembering my mother and looking for her with my mind's eye, but although I spent time in her garden and the house she loved, she was nowhere to be seen, but she will always be in my heart.




George and Katina Levounis.
Оно есть, - кивнул Стратмор.  - Тебя оно не обрадует. - В ТРАНСТЕКСТЕ сбой. - ТРАНСТЕКСТ в полном порядке.